The plan is to build a cabin / shelter / house from a shipping / sea container that is suitable for a weekend or a very lengthy stay. One that is self sustainable in a time of disaster for up to a year or longer if need be, and to have all the comforts of home, and more. 
    When finished it will have both grid and off grid capabilities. Water will be heated using solar energy with electric backup, or by wood stove if necessary. Lighting will be a combination of 110 volt, 12 volt or kerosene. Heating will be a wood stove and solar. Water will be provided by a well source
using both electric and hand pump to feed the cabin. 
A large pantry that is mostly underground that will house at least a years supply of food.
 Remember, it wasn't raining when Noah built the Ark!
There are several things to consider when picking the spot for your shelter such as, will you be adding water and electric, if so is the soil going to be easy to dig. How level is the ground (will you need a operator with a tractor to level your ground). Can a semi with a 40′ container get in to set your container and get out. I chose a banked location for my project because I wanted to dig down to get it level and use the excess dirt to put back onto the container for some insulating and thermal
heating and cooling value.
With the ground leveled I measured out for the footings or piers the containers were to sit on. There are some options here, like railroad ties, gravel, concrete piers, or full concrete slab. I used re-bar reinforced ready mix concrete piers. My $3.00 laser level is siting on the cinder block. The cinder block is leveled on all four corners, then I taped the $3.00 laser bought at walmart to a torpedo level. It worked pretty good.
1st container arriving, wahooo!!
2nd container arriving.
When your containers come in, you will have to have your piers so the driver can wheel over them unless you have a crane available to you that can lift the 8,000+ plus containers off the truck and onto your piers.
    The driver did a pretty good job of placing the 1st container, but missed my piers. I was not sure what to do then because these things weigh in at over 8,000 lbs, and I only have a small compact tractor, but between an old floor jack, a 4 ton power-puller and my little tractor, I got it done.
The second container he dropped off was 3′ away from my other one and I guess that was a close as he could get, but again a little ingenuity and I got the two married.
Here is a back view where most of the dirt will go back onto the container. The dirt will cover the most rear portion of the shelter where I plan on keeping some food supplies. It should help keep that corner cool year round which in turn should help extend the shelf life of the food supplies.
This is the hand pump water line. The hand pump water line is coming in where the kitchen will be, and the pump will sit over the sink as do conventional faucets.
Containers are chained together at the top and bottom temporally. Eventually they will be welded together.
I used spray foam insulation in between the two containers to keep moisture out.     
Here is my container cabin floor plan. It seem to be the best use for the available space, at least in my minds eye. This container floor plan is also a great plan because I am putting a large amount of dirt on the back and end wall, so the dividing walls will add support to the back wall. The
pantry
will have shelves along the back and end wall that will also lend support to the outer walls.
Marking the cut line.
My first cutting is to open the space between the two containers that will be the living room.
I am going to be using arched door's and window's on this project, so I decided to make the opening an arched opening for a couple reasons. One, it should help maintain strength for the roof, and two, it will tie in with the doors and windows.
The opening will be 14′-6" long and 7′-3" high. I used a 7′-3" wire with a black marker fixed at the end to mark this with.
The other end was secured to an eye bolt at the center of the selected area. I also drilled a hole from that point to the other side to mark the location to duplicate the cut line on the other side.
     Wall after it was marked for the cut line.
Cutting.
A 4-1/2″ angle grinder worked well for cutting the walls out. I tried a sawzall at first, but they do not work well when you are attempting to cut two wall's back to back as the blade wants to wonder on the back panel, and it also has a tendency to get pinched as the wall's flex and distort during cutting. I also tried a 6-1/2″ metal cutting blade with a skill-saw, but it wanted to track straight, so that did not work for the arched opening.
A word of caution when cutting walls. The walls in these containers are 12 ga steel and very heavy, and after you cut them, they are very sharp at the cut edge. I estimate this section to be approx 400lbs and I was making my final cut at the bottom when it came crashing down. My natural reaction was to raise my arm to stop it and I sustained a sever laceration to my forearm. So use extra caution when cutting these container walls.
First wall out!
You will use approx one 4-1/2" cutting disc for every 5′ of wall cut.
There will be little waste from the cut out walls as I will be using them for overhangs, awnings and interior building materials.
Second wall out.
Next post will be, welding the containers together.
Fortified Container Cabin
This is a good plan when considering bug out options.  A cabin that can be made to look like a container left out in the woods.  All the amenities you could possibly need on the inside, with a nondescript exterior which is easy to close up when not in use.  The fold down deck will give you outdoor seating space too.  The disadvantage would be the lack of ability to see out once you close the doors.  Plan for a peep hole and a turret or slot which can be used for self-defense if attacked from the outside.  It's important to always have a plan B.  No matter how defensible or remote your position may be, in an extreme situation where you have to evacuate, you should always have a way out.  Never back yourself into a corner like what happened at the Malheur Refuge in Oregon with Ammon Bundy and his group.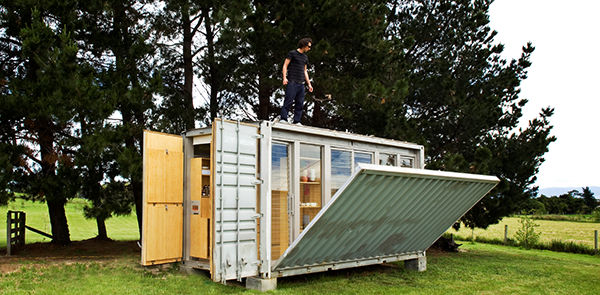 A Modern Look:
Our next cabin is quite the deluxe space, but again leaving good fortification options and defense.  You won't be able to hide in plain sight like the previous cabin but you will be able to close the side for protection against storm, attacks and absence.  For interior options, shop around on "tiny home" websites to find innovative space saver ideas.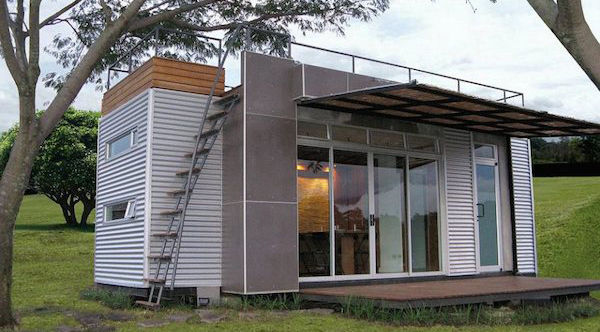 Summertime Retreat:
This is a much more casual space but a fun idea concept.  A pool deck which can be integrated with a self-standing pool or even Jacuzzi.  In the event of a crisis the pool can be used as a storage tank for water.  Hydrogen Peroxide (H2O2) can be added to water to purify it in a safer non-chlorine way which will actually oxygenate the water and make it healthier to drink because it will help to oxygenate the body.  Add 1/8th cup of H2O2 per gallon of water.  Be sure to have a way to cover it in this type of bug-out situation to prevent extra dust and leaves etc.  The roof is probably one of the better features in this plan because a flat roof can allow for snow buildup which can compromise roof integrity.  Any type of slope or cover is your best option when planning a bug-out container cabin.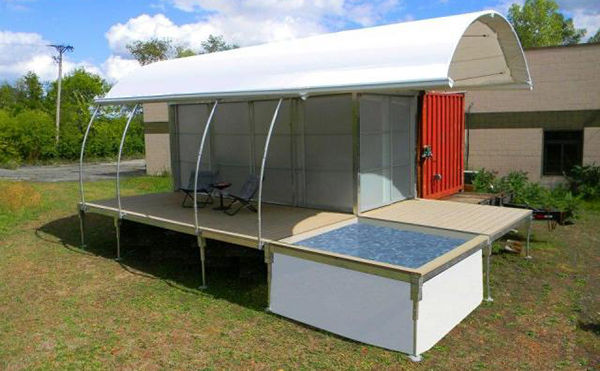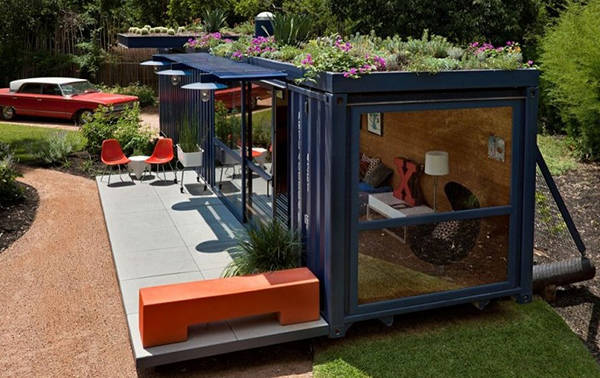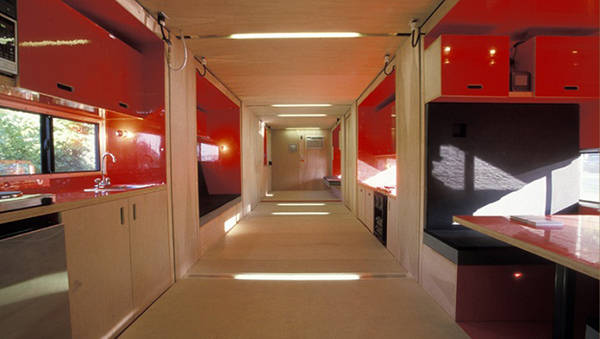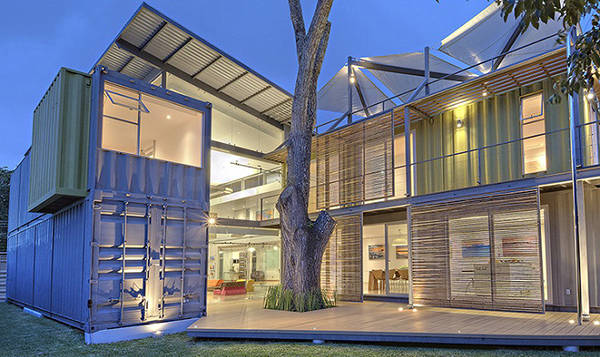 Wintertime Retreat: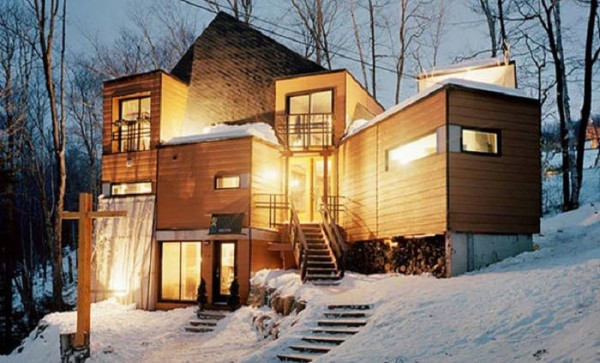 You may also like:
(Visited 578 times, 1 visits today)